Darrell Adcock – South City Church
GLS more than a Summit
I'll never forget sitting in the lakeside auditorium with 2,463 others at Willow Creek Community Church outside of Chicago for the very first Leadership Summit. The presence of the Holy Spirit was heavy on me. I could tell they had been praying fervently over a long season to "call us up" as leaders. As Hybels famously said, "The local church is the hope of the world, and its future rests primarily in the hands of its leaders."
It seemed only natural to use this conference as a chance to connect with my teenage kids and let them taste of what mature leadership looks like and ways to grow in their service through the local church, learning from leaders in business, politics, thought-leaders, and nonprofits.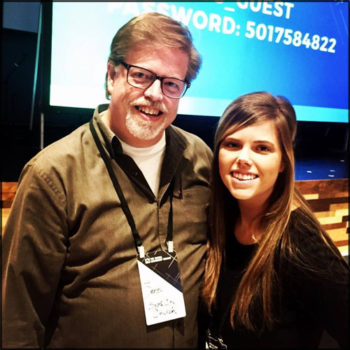 "When Dad called me one day to go to this leadership conference, I thought, "I'll go, spend time with my dad" I never thought that this might change the way I live my life. The first year it opened my eyes to the world of leadership and that I could actually be good at it. What a true blessing it was to sit next to the man I looked up to most in leadership, in life in the church, and most of all as a teacher. The Global Leadership Summit has been the two days a year that I look forward to most. From hearing from the top leaders to the car rides on the way back talking about what stuck out most. The Summit has shaped me to truly love the local church and made me see leadership in a whole new way. Six years down and twenty to go!" – McKenna Adcock
Over the past 25 years of the GLS, I bet I've only missed a couple. God profoundly uses this conference to re-calibrate my leadership, renew my calling, and expand my heart for the local church, the world, and the needs of people. Plus, I will never surrender the opportunity to connect and grow with my, now adult, kids.
Don't worry, Kenna, I've already got our tickets for next year!
McKenna Adcock uses her leadership for Starbucks and in serving at South City Church in Little Rock. Darrell Adcock serves as Executive Pastor and Music Director at South City Church. He and Tracy are celebrating 30 years of marriage and their four kids. Together they help foster and adoptive families through Empowered to Connect Parent Training