If you are a Christ-follower who desires to see God's purpose fulfilled in your church and your city, you are in good company. God promised Abraham that through his descendants, the whole world would be blessed. God instructed His people to seek the welfare of the city where I have sent you into exile, and pray to the LORD on its behalf, for in its welfare you will find your welfare (Jer. 29:7), These words are just as true for our day. Our personal wellbeing, family wellbeing, and yes, the wellbeing of our churches is inseparably connected to the wellbeing of our community. In the New Testament Paul provides instruction through his co-worker Titus; the Church, God's family of families is to be zealous for good works (Titus 2:14,3:14).
We want to see our churches grow and we want to see our community changed for God's glory, but our schedules are often overwhelmed with just the basic responsibilities of caring for our own flock. There is good news. Jesus taught that if we "seek first His Kingdom, all these things will be added." It's a paradox. As you seek the welfare of the city, God will work to fulfill His purposes not only through your church but in your church. There are five proven ways pursuing His Kingdom priorities can help your church grow:
Believe we are better together
Unite in extraordinary prayer
Pursue an intentional plan to train leaders
Increase your church's vison to serve
Invest in the movement
BELIEVE WE ARE BETTER TOGETHER
The first way to help your church grow is to believe we are better together. Where there is unity God commands his blessing (Psalm 133:). It is God's plan to unite all things In Christ (Eph. 1:10). Paul goes on to write in Ephesians 4:15-16, Rather, speaking the truth in love, we are to grow up in every way into him who is the head, into Christ, from whom the whole body, joined and held together by every joint with which it is equipped, when each part is working properly, makes the body grow so that it builds itself up in love. When your church fulfills its unique role in the Body of Christ not only will the whole church grow your church will grow.
Your proclamation of the gospel will be more effective. In the prayer of Jesus ( John 17), He prays, I do not ask for these only, but also for those who will believe in me through their word, that they may all be one, just as you, Father, are in me, and I in you, that they also may be in us, so that the world may believe that you have sent me. John (17:21).
A recent study Reviving Evangelism: Current Realities That Demand a New Vision for Sharing Faith by the Barna Group in partnership with Alpha USA, confirms Jesus' words. It reports, that among the "nones" and those who are "not Christian but interested in spiritual things", one of the top 3 things that would make these groups more interested in Christianity is "if they saw various churches in their community working together more."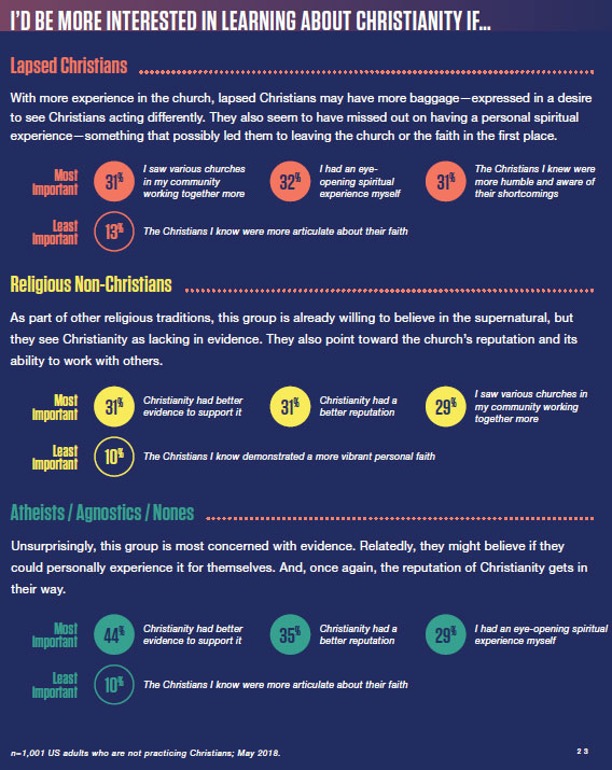 Let's say it another way. If you want to increase your church's effectiveness in proclaiming the gospel of Christ, work together with other churches. If we believe we are better together, we will prioritize our personal schedules and our church's calendar to make this a reality. When you unite together you are aligning with God's plan, you invite God's blessing, your witness will be more powerful, and your church will grow.